Main Content Start
A Center for the Study of Food
Culinary
A Center for the Study of Food
Culinary
Brightwater: A Center for the Study of Food
As an an academic division of NWACC, Brightwater offers holistic programming with academic and career training in the areas of culinary nutrition, artisanal food, beverage management, and food entrepreneurship. Students and professionals can gain world-class training at any point of their journey into the world of food.
Contact Culinary/Brightwater
M-Th, 8:00 am - 5:00 pm
Friday, 8:00 am - 4:00 pm
Brightwater: A Center for the Study of Food is accredited by the Higher Learning Commission and the American Culinary Federation. Brightwater breaks the mold by focusing on the larger food system, culinary skills, wellness, and strengthening local food networks to change the paradigm of culinary education. By assembling a core group of chef instructors and culinary masters, the program teaches and provides world-class training to students, industry professionals, and the general public in an innovative educational setting.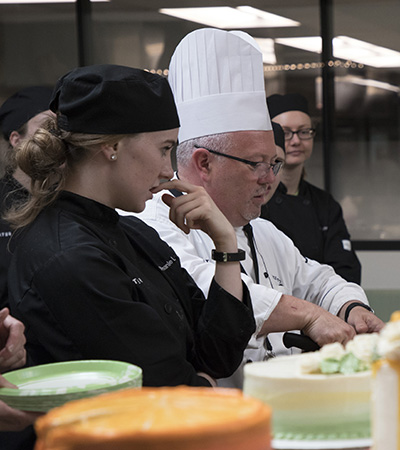 A World Class Culinary Education
Brightwater
As a Center for the Study of Food, Brightwater offers the insights and skills needed to positively impact our food system. In addition to gaining cooking proficiency, students will regularly participate in activities and training on culinary nutrition, growing and sourcing food, food waste and recovery, whole-animal butchery, food entrepreneurship, and seasonal cooking. Brightwater is the first culinary school to integrate a food-systems approach and inquiry-based learning to cooking, local farming, sustainability, and community development.
8th Street Market
Destination: Food
The 8th Street Market will use food and local farming as a core experience in creating a regional hub and incubator for culinary talent, ideas, and networks. The Market encompasses approximately 10 acres along 8th Street within the Bentonville Market District in a completely refurbished food processing facility. The space allows for a modern exchange of food, farm, culture, and community, offering visitors unique experiences to share meals, explore ideas, and better connect.
The entirely new concept for the area will help Northwest Arkansas continue to grow the region's reputation as a food hub of the Upper South. By sharing the 8th Street Market with food artisans, Brightwater has a special kitchen dedicated to butchery and charcuterie, a temperature- and humidity-controlled pastry kitchen, equipment to make artisan breads, the latest tools for modernist techniques, and a range of supplies for food preservation. Virtually everything located within 8th Street Market has a synergistic connection to food and hospitality in Northwest Arkansas, and likewise to the Brightwater program.